With the increasing popularity of computers, the subsequent computer radiation is really an nasty problem for computer users. There are many types of computer radiation among which the radiation to the eyes is so harmful that nearly 30000 people have gone blind. The urgent problem of how to effectively prevent the computer radiation so as to protect our eyes in great danger has luckily been solved by the advent of computer glasses.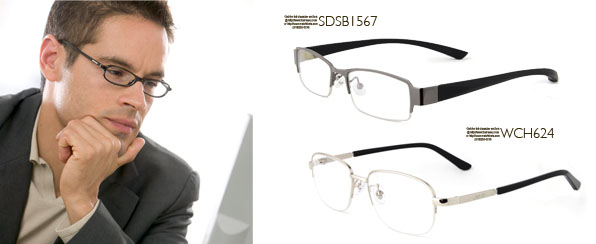 More and more office workers are being tortured by computer radiation at all times that their eyesight is getting worse and worse, alongside with eye dry, itch and fatigue. In the office, radiation sources are throughout every corner, from computers, printers, scanners, fax machines, etc.. Computer radiation do much harm to the eye that in the beginning of radiation our eyes cannot escape the symptoms of fatigue, inflammation, lachrymation, pricking and so forth. Then after having suffered from computer radiation for long, our eyes would be stricken by conjunctivitis , keratitis , cataract , glaucoma , retinal detachment, astigmatism, color blindness , etc. If the condition deteriorate, we will lose our sight. Are you worried about the computer radiation and are taking great pains to find the solution to shunning radiation? The best solution is a pair of computer glasses which is especially designed to reduce the harm of computer radiation to the eye. Computer glasses not only have magic function of vision correction but more importantly, they are unique and superior in reducing the computer radiation while we are working at the computer and in the office. With a pair of computer glasses and you will work more wholesomely and cozily.
Since computer glasses are advantageous in many aspects, they are naturally a little more expensive than ordinary glasses and computer glasses in the entity stores are limited in number yet more costly. It is good news that Firmoo now has countless computer glasses in stock for you which are much less expensive and of high-ranking quality. Either you are a salaried worker or a senior corporate staff, a pair of glasses is your second-to-none choice as eye protector. Take patronage to Firmoo and you will be served with the most satisfactory computer glasses.