Springing up like mushrooms, thick glasses have become a practically overnight sensation. The huge wave it stirs up in the fashion circle is unprecedented and probably unmatchable by anything either in the current time period or in the near future. Behind this immense craze over the product is a culture movement that emphasizes on individualism and uniqueness. The emo movement especially has pushed the style to a wider audience and made the popularity of the style. Although they might be the hottest glasses style on the planet now, it is not recommended to everyone. Besides, people with different face shapes or other qualities should be introduced to different thick glasses. In this article, we take on the extremely important issue of how to choose thick glasses.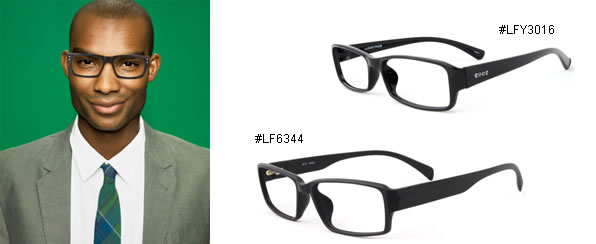 First off, it has to be established that the word thick here means the thickness of the frames. Many people confuse thick glasses with big framed glasses, given that big frames often appear thick. However, the truth is even though oftentimes, the thickness of frames, both fronts and arms, are proportionate to the size of frames, there do exist times when they are inversely proportional. So, sizes vary in thick glasses and for those who's facial qualifications can be described as "rugged", with brooding forehead, high cheekbones, strong jaw or thick hair, you are safe with square, rectangular or round shapes of all sizes. However, if your face features aren't as strong as that, you might want to spare the round or large frames, since these frames are extremely harder to pull off. Color wise, strong featured faces look fantastic with black while smaller faces go extremely well with tortoise shell.
The next time you go shopping for a pair of thick glasses, you might want to take a minute to thick over the foregoing factors a little bit and then make your own decision. Although thick glasses are always a safe choice to go with, when it comes to specific styles and sizes, one can mess up if he is not careful about the foregoing factors.