Johnny Depp Eyeglasses, iconic item of the hottest man Johnny Depp, have long been considered a great accessory to boost one's image. Johnny Depp, the multi-talented actor who is worldly renowned for his role as Captain Jack Sparrow in the Privates of Caribbean series and his numerous collaborations with the eccentric director Tim Burton which resulted in a series of aesthetically arty and commercially successful movies, most notably Edward Scissorhands, Sweeney Todd and most recently Alice In Wonderland, is a true global icon. The People Magazine's two times "sexiest man" alive winner, by the way, he is only the third who's achieved that honour, the other two being his fellow heartthrobs Brad Pitt and George Clooney, certainly has a style unique to his own. Since the 1980s when Mr. Depp first rose to stardom by his amazing performance in the hit TV series 21 Jump Street, he has remained a retro vintage style that may look outdated on others but he somehow manage to not only pull off but make sexy as hell. From clothes to accessories, everything that's seen on Mr. Depp is due to create a craze and huge following among million of his movie fans all over the globe and others who just want to look good alike.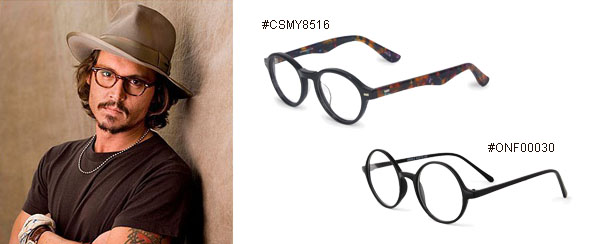 Judging from a number of pictures of Johnny in and out of public, we can easily conclude that Captain Jack in real life is a constant eyeglasses wearer.  He seems to adore those eyeglasses that other celebrities can't get enough away from. He is also bold and audacious enough to try on just about any type of frames that otherwise would appear completely nerdy or unsightly and make them work. Although there is practically no frames Mr. Depp couldn't pull if off with, there do exist some styles that seem to be his favourites. Among the most notable ones are the classic tortoise frames that always get to appear on that gorgeous face of his. The delicate retro vintage design completes that sophisticated yet still immensely sexy look over and over again whether on the red carpets outside of premiers or when Mr. Depp is on the Late Show promoting his latest blockbuster.
There is no shame at all in wanting to get hands on a pair of Johnny Depp eyeglasses since everyone wants to look like a star. Unlike the products advocated by other stars though, Johnny Depp eyeglasses come with a profoundly deep-rooted sense of artistic taste. They are the missing piece of a larger picture. To pull them off, it might take more than a set of eyeglasses, but once the missing piece is fitted right and proper, you will surely shine like the mega-star himself with a sexiness that endures days and years.