Firmoo is offering FREE eyewear to bloggers, plus free shipping. You can get a FREE pair of eyewear valued less than $50, including non prescription glasses, RX glasses, sunglasses and goggles. One pair per person.Sound great? In return, we sincerely ask for your favor to write a review for the FREE eyewear you get or sponsor for us in your personal blog that has been approved after checked by our team. The content can be what you think about our eyewear, and no need to be fantastic article.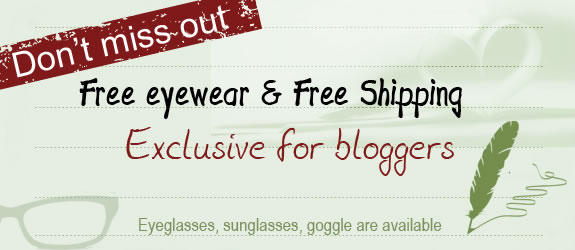 1. Choose ANY EYEWEAR you like
·For non prescription glasses or prescription (RX) eyeglasses, please choose at
·For regular sunglasses or prescription (RX) sunglasses, please choose at
http://www.firmoo.com/wrap-around-rx-sunglasses.html
·For goggles, please choose at
http://www.firmoo.com/goggles.html
2.Fill in our application form for free eyewear and then send an email with the application form attached to
freeglasses@firmoo.com. After receiving your email, our staff will check your blog,and we will tell you the result as soon as possible.
Click here to download the application form.
3. Once the blog is approved by our staff and information you provided is confirmed as correct, we would start process your eyewear and then send to you.
4. After receiving our eyewear, please write a review or sponsor for us in your personal blog and send your review address to freeglasses@firmoo.com.
Notice:
We ship to U.S, Canada, Australia, UK, New Zealand, Philippines, Malaysia, Thailand etc. Click here to check all countries that we serve.
If your eyewear is lost in transit or arrives damaged, please contact us and we will resend you a new pair.
Reviews from Bloggers: