Five years ago, would anyone have considered it possible that the nerdiest of the nerdy glasses in the world, bifocal reading glasses, could someday become a fashion trend? However, in an era when practically nothing is impossible, bifocal reading glasses have for better or worse become the most unexpected fashion trend in the passing couple of years. It is not an exaggeration to say that bifocal reading glasses is catching on when it's being worn by the sexiest man alive, Brad Pitt, or the most competitive coming-of-age rapper doing his thing on the most popular talent in the world. Those who have switched from their old pairs of bifocal to the everyone-is-talking-about progressives are now switching back for the sake of comfort, convenience and the newly found fashion value.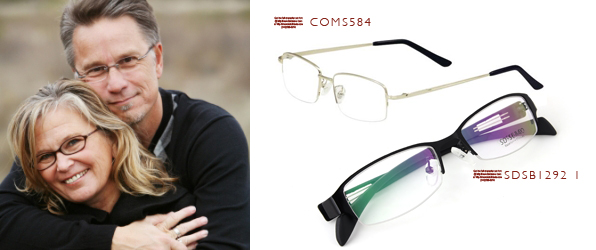 Gone are the days when a pair of bifocal glasses is laughed at just because they give away the fact that the wearers might be over the age of forty. People don't like to hang their age around on their face for the world to know and subsequently bifocals are being disliked by many. As an alternative, scientists and opticians developed progressives to replace bifocals and since they don't have any of that obvious separating lines that's been scrutinized, progressives are selling pretty well. However, after a period of time, the fever died down a little as people began to learn that it takes a difficult adjusting period to get used to progressives and later that some people just couldn't get over the adjustment period. Bifocal reading glasses, with their wearers-friendly design and convenient operating method, popped up on people's mind again. However, some still hesitated on the thought of the unsightly effect these super nerdy glasses might bring to their face and overall image. Then, there comes the storm contributed by the names mentioned above and many more celebrities residing Hollywood which deleted totally and completely the consumption that bifocal glasses are uncool and established firmly in people's mind that is worn properly, even bifocals could be sexy and attractive.
In an age when almost anything could be purchased electronically, bifocal glasses are no exception to the E-commerce trend. Firmoo.com, the world's most professional eyewear vendor online has the most complete stock of bifocal reading glasses and their user's friendly page and purchasing procedure will help you land your favorite pair within just no time.