As a traditional solution to the dilemma of having difficulties seeing things both close up and far off, bifocal reading glasses have come a long way. Once, it was the only way to deal with the nettling troubles triggered by having to constantly switch between different eyeglasses. Now, however, with the emerging and increasing popularity of contacts and optical surgeries, bifocals seem to have lost most of its followers. Many people had long been complaining about the clumsiness and heaviness of their old bifocal reading glasses, so once an alternative is available, they immediately took it, regardless of their lacking of real advantages. It is only after they are over the novelty of the new stuff and begin to find them with as many, if not more, problems as bifocal reading glasses, did they look back and take one more chance on their old problems. And this time around, bifocal reading glasses, with the new varieties and variants provided by the rapidly developing optical techniques and technology, sure won't let them down.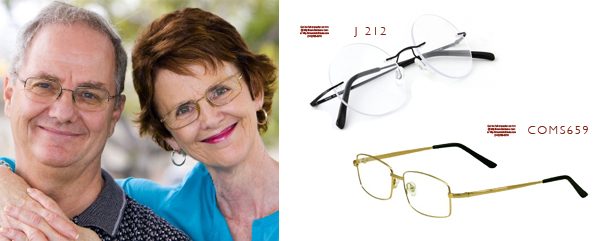 As is widely recognized, bifocal lenses were invented by Benjamin Franklin, one of the founding fathers of the United States. Besides drafted and issued the constitutions for one of the strongest countries now in the world, Benjamin was also a frequent inventor. At the time, he was experiencing what is familiar to thousands upon thousands today, a combination of myopia and presbyopia. The custom approach to solve such problem at the time was to carry multiple pairs of eyeglasses for varying vision ranges and put on a certain pair when the corresponding vision correction is needed. A great man like Mr. Franklin was never going to make peace with the unsatisfying current solution. He studies the science behind eyeglasses and ingeniously, with immense imagination and creativity, blended two pieces of lenses of different powers into the same lens, and the rest goes the history.
Bifocal lenses were thus invented, yet in retrospect, the ones made in Franklin's age did seem a little bit clumsy. Because the lenses consists of two different parts, they were usually larger than single vision ones. Besides, in an age when most lenses were made of glass, the weight of such specs can only be added. The visible line separating different powers was a major issue as well. Many people don't like the idea of having their age written right on their faces. All the above-mentioned drawbacks have been causing bifocal reading glasses to wade through their dark days and then later solved one by one alongside the unprecedented developments and achievements with materials, techniques. For instance, the use of lightweight material such as Trivex, polycarbonate and CR-39 have not only made bifocal reading glasses lighter than ever but also given them a chance to be more versatile in styles, since lighter lenses are compatible to a large number of frames. You could even have your bifocal readers semi-rimmed to have that classy and business-minded look you've been long craving for. For those who have been sick and tired of the telltale lines on bifocal glasses, progressive lenses may be of their interest. By blending practically innumerable powers into the same lens, progressives, also known as no-line bifocals, provide the same convenience as bifocals while having the visible lines rid off at the same time.
All and all, those of you who still dwell on the old impressions of bifocal reading glasses need to come out and give them a new chance. Some of you may still not like them but who knows, maybe some other will stick to them for the rest of their lives.