Are you having problems reading print or computer screens? Do you find yourself straining your eyes to read printed materials or having to hold fine print away from your face just so you can read them? If yes, you might need a set of reading glasses.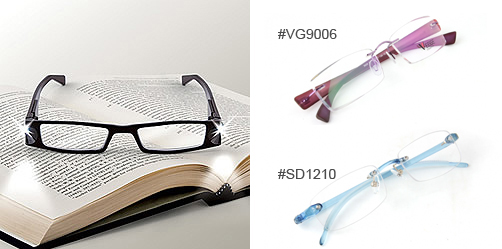 Some people who have the above mentioned vision problems have never experienced any vision problems before. For them, reading glasses are the best option to solve their problems. They are very easy to adjust to and cost effective. The wearer can just look down through the glasses to read and look forward for regular vision. No need to put them on and off.
For the rest who have more than just reading problems to cure, reading glasses remain a popular choice. While bifocals, trifocals and the latest progressive glasses work well for some, most people find them difficult to use. In order to see at far, mid-range and up close ranges, the wearer has to look through different parts of the lenses. As an alternative, one can have a set of eyeglasses for distance vision and a set for reading. This is a good solution especially for people who are just beginning to experience Presbyopia. Reading glasses are usually small and compact making them easy to clip on and off whenever needed and easy to store and carry around with.
If you intend to get yourself one pair of such glasses, the first thing you need to do is to see a specialist and have your problems diagnosed with detail. Remember not all reading glasses have prescription lenses. If you are just like most people who don't have any other problem except for reading, a set of non-prescription reading glasses that magnify the material that is enough for your purpose.
One thing you should notice when purchasing reading glasses is that they are different from computer glasses. Because computer glasses are specially designed for people have to work long hours in front a computer, they are not for the right distance for reading. Remember to distinguish when you are in the store.
Reading glasses come in two basic styles: full lens and half lens, with no one better than the other. You can make your decision based on your personal preference. There are also endless colors and shapes to choose from. You can easily find the one pair that matches your wardrobe, your hair color, your facial shape and even your attitude.