Speaking of progressive lenses, maybe most people are not very familiar with them. Nevertheless, believe it or not, progressive lenses definitely change in power from the top to the bottom, specifically, they can accommodate prescriptions for distance vision as well as close work. You may ask what progressive lenses are? Here you will get something about lenses of progressive eyeglasses in details.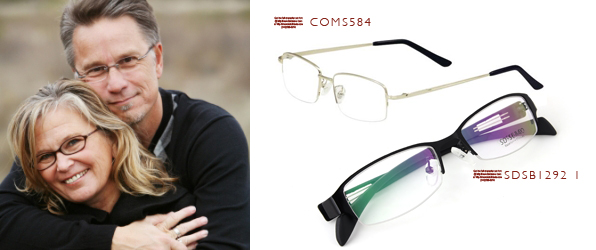 What are progressive lenses?
This is a basic question for everybody to get known about progressive lenses. As a matter of fact, sometimes, progressive lenses have another nickname no-line bifocals, and they are actually trifocal lenses without the visible lines.
What's the history of progressive lenses?
Dated back to 1990's, it was the first time for progressive lenses to be introduced as a new lens product which provides multifocal vision "without the line". At that time, lens firms realized that elder groups who need reading glasses didn't prefer others seeing the visible bifocal line for cosmetic purposes, and then the progressive "no-line" lenses were invented.
What's difference between average reading lenses and progressive lenses
Compared with average reading lenses, there several apparent characteristics of progressive lenses. In fact, progressive lenses are well-known for a gradient of prescription powers, which means the gradient starts at the distance power at the top and reaches to the maximum added power for near vision at the bottom gradually. Due to this special feature of progressive lenses, they enable people, especially elder group over 40 years old, to see clearly at varying distances with only slight tilts of their heads and their eyes. To be specific, not only do progressive lenses make accommodations between varying distance prescriptions effortless and correction of multiple refractive errors possible with just one lens, but also the intermediate in between and the close up at the bottom fits the natural positions required for respective vision tasks perfectly.
After reading the article, you probably understand why progressive lenses are that popular and hot globally. Maybe now, if you ask what progressive lenses are, we will tell you that choosing a pair of progressive eyeglasses must be a perfect choice allowing eyewear to be worn continuously for a range of different tasks. So, why not have a try?