Does it ever occur to you that sometimes it is not because you are sexy that you wear glasses but it is because you wear glasses that you are sexy? Do you secretly wish you could look as sexy as Tina Fey in glasses? Then you may wonder if there exist some kinds of sexy glasses that can assure you a sexier look. Yes, there does exist this kind of sexy glasses, however, the sexy glasses we mention do not refer in particular to one or two types of glasses. In principle, glasses which go with wearers' make-up and dressing and make them sexier can fall into the categories of sexy glasses. So, to a great degree, it is how well you coordinate your glasses with make-up and dressing that will determine how sexy you will look. Sexy glasses vary with place and time.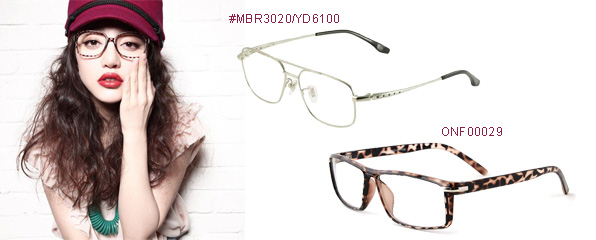 What kind of glasses are the sexiest glasses for women? The answer lies in what make-up women have. Different make-up requires different sexy glasses. Here are some typical sexy glasses on some different occasions.
1. Sexy glasses for dramatic false lashes
If some women feel like wearing dramatic false lashes on her lower eye line, then a pair of glasses with a simple dark frame will work perfectly with their black false lashes. Though these glasses with simple dark frame are nothing too overpowering, they do make these women sexy and enchanting.
2. Sexy glasses for smoky eyes
If some ladies are wearing smoky eyes, say, to go to a night party, and then glasses with brushed purple or blue metal are their perfect sexy glasses. Since these brushed colors of purple and blue are compatible with the color of their smoke eyes, it is no doubt that with these glasses on these ladies will attract a lot of attention and admiration at party.
3. Sexy glasses for light make-up
Speaking of women who are constantly wearing light make-up, it is those glasses with colorized frames that make them sexy. Then why? The answer is that colorized frames can compensate the neutral and light colors around the eyes. So, ladies in light make-up will also have a sexy look while wearing glasses with colorized frames.
Our fair ladies, would you like to look as sexy as those captivating megastars and magnetize more public attention? Come to our trustworthy Firmoo and here we have prepared for you all kinds of magnificent sexy and cheap eyeglasses of best quality. Sexy glasses are definitely well positioned to shift the perception of others on you. Be a chameleon with those sexy glasses in collaboration with different make-ups.