There's no doubt that Lady Gaga is a fashion icon all over the world. A lot of people especially the youth are crazy about her distinctive style such as unique dress, performance, etc. therefore, her fans are interested in imitating her. Lady gaga calls her fans as monster because she thinks her fans are the most coolest and fashionable people as well as desire and inspiration of her creation.
When it comes to getting lady gaga look, a pair of round sunglasses will help you make it, because Lady Gaga has been a huge fan of round sunglasses. Therefore, round sunglasses will make you get lady gaga look and stand out from the crowd.
Round eyeglasses evoke elegance and classic style. They are a modern deduction of the original classic that still keeps you looking celeb-chic. Since lady gaga always wear them, they are popularized and come back to the fashion world. At present, round sunglasses have a cool vintage look and become more and more rectangular. They have dominated the position of the hottest accessory in a more rounded way.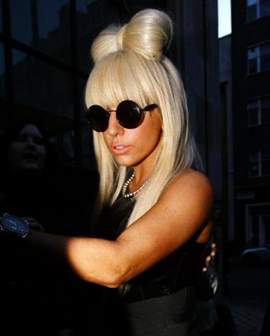 More than any other shape, round sunglasses have an immediate impact on your look and can take a totally simple outfit into the 1960s style. For example, a special tortoiseshell pair with rounded lenses or something in oversized acetate can make you look fresh and trendy, while metal frames with colored lenses may make you look like a groupie.
Moreover,if you want to look elegant, you may choose round sunglasses with photochromic lenses. These lenses will decorate the face outline, and your eyes become mysterious and sexy.
Generally speaking, round sunglasses are a good way to get lady gaga look as well as make you look stylish. Just go ahead and complete your outfit with these vintage style sunglasses that feature a large round frame.