The history of eyeglasses frames for men has been one of constant changing and evolving. What's hot or "in" in one particular time period might turn out completely not Okay to wear in some other. The so called fashion value may sound vague, but it is evidently present in every piece of item we use in our daily lives, running down from the most obvious, our clothes, shoes and bags, right down to the accessories, by which we could refer to not other but glasses. It is true. A different pair of frames on a face has the power to immediately change that face into another. Not literally another face of course, but another vibe, vigor or even personality. The importance of a fitting pair of frames can not be over stated when it comes to dressing appropriately for the occasion and the man.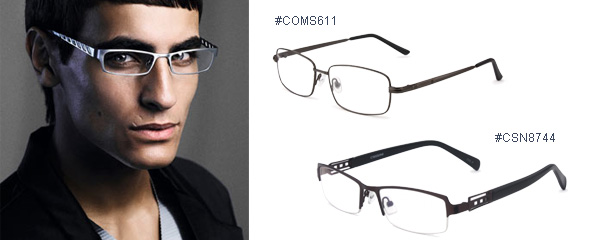 At the very mention of eyeglasses frames for men, most people would immediately think of those same old regular ones, i.e. aviators, rectangular and round John Lennon glasses. While all those styles are perfectly all right and cool, they lack what's most important in an age of post-modernism, individual expressing, boldness and audacity. Traditionally, men are thought to be supposed to be this symbol of masculinity and virility, so any too complicated or minute designs would no doubt be vetoed as not compatible, not to mention those that are bold and spicy. Lately, however, the trend has been changed completely. The fashion for men's eyeglasses frames is witnessing a major turn from the simple and conservative to the extreme and bold. Larger and larger frames with daring shapes and jaw dropping details are being worn by more and more gentlemen than ever before, creating a whole new glasses wearing phenomenon as well as revolutionizing the industry and people's opinion on men's eyeglasses frames all together.
Nowadays, it is not a sin any more for a man to spend time and money on his looks. More choices in eyeglasses frames for men are definitely in the favor of those who are sick and tired of the old workplace of men and are craving to try new looks. As more and more people are beginning to enjoy the fun of such frames, we can't only predict such frames' fate as here to stay long and strong.