At a speed that surprises even optical insiders Anne Hathaway glasses are catching on among movie-goers, fashion freaks and regular glasses wearers. The choices this lady makes in terms of glasses never seem to cease amazing people and with the amount of influence Miss. Hathaway has achieved over the years with on screen performances and many other ventures that her versatility allows, the exquisite taste and fine judgment shown in all her appearances are only here to stay as a good advice and excellent role model for all of us who want to look in vogue and like superstar.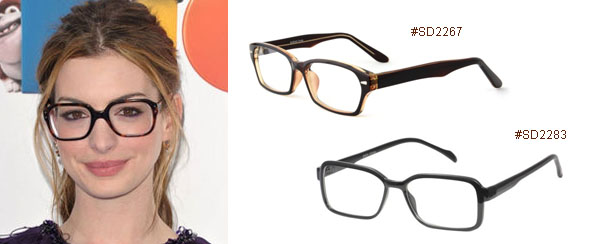 As one of Hollywood's most valued asset and film industry's most celebrated talent, Anne Hathaway has truly come a long way. The fresh sweet face that won the hearts of millions in the Prince's Diary has now turned into a fully-grown woman, with the abashedness gone and the sweetness remained. The list of movies this prolific woman starred in shows a potential for a next legend that might end up rubbing shoulders with other greats like Kate Winslet and Meryl Streep. Commercially successful blockbusters like Get Smart and the upcoming batman movie Dark Knight Arises has proven her money drawing capacity as in the A-list while critically acclaimed ones as Rachael Getting Married which won her a well deserved Oscar nod puts her up right there on the map of acting chops and shows that she is not just a girl with a pretty face. Besides acting, her recently developed ventures in singing and hosting ceremonies unveiled the actress' amazing versatility. The little interlude she did at the Oscars with Hugh Jackman led to a singing carnival in the animated Rio and her collaboration with James Franco at the 83rd Oscar won generally positive reviews.
All those great projects pulled out perfectly and she is still not on a stop. Just when you look at the fine lady's resume and wonder what she couldn't do, Miss. Hathaway shows up at the premiere of Rio with a pair of nerdy specs framed in tortoise style. On the record, this might the only time in the history of all donning nerdy glasses that one has ever managed to make those glasses look sexy and Anne did it without even trying hard. But this is not the first that Annie surprises us on with the glasses. Regarded by many as the finest shades wearer in Hollywood, Hathaway is no stranger to worldly renowned brands as Oliver Peoples, Tom Ford and Ray Ban. Pictures of Anne rocking those shades have been posted on fashion websites, studied and followed by millions of fashion lovers all over the globe. The minute a photo of Anne sporting a new pair of shades gets leaked, the same models and replicas fly off shelves like crazy. Rocking a pair of Anne Hathaway glasses and they are becoming a fad. Look around you and you will feel like having been living under rock if you still haven't own a pair. So, hurry up, get your own pack and feel like a superstar right now!