Prescription eyeglasses, traditionally thought of as nerdy and geeky and mostly talked about of their functional aspects, for example, how well they help wearers to see better or keep their prescription power on a steady level, are now transforming into an accessory that people choose to spice up their outfit. Like sunglasses, theses primarily functional specs have been added a new layer of value and that is fashion and aesthetics. The days when prescription eyeglasses can only be fitted into a couple of styles of frames are long gone. Nowadays, prescription eyeglasses can go together perfectly with many styles.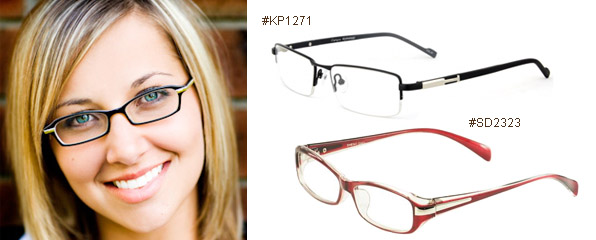 With the choices in styles of prescription eyeglasses surging like rockets, more and more people are choosing them to be their No. 1 accessory to boost their image. Some who don't have any vision problem even wear prescription eyeglasses adjacent frames just to look certain way and that definitely speaks a million about the huge influence and major role prescription eyeglasses is playing in the fashion circle now.
With the options increasing, there emerge another problem: how to choose. Frankly speaking, although more and more people have discovered the magical impact a pair of prescription eyeglasses can have on their faces, most of them aren't just using it right. There is a certain vibe, a certain character to every frame style out there, so when you choose, you need to spot out the one that speaks to your temperament, your personality the best. For example, the ubiquitous aviators may not be as versatile as many people think. The idea of such a design originally was to represent the virile, the manly and the masculine. Though it later transferred quickly across the gender gap and was immediately absorbed by female fashion, it still is not a very good idea for a small yet exquisite girly face to match such a macho frame.
Having your prescription eyeglasses in accordance to your personality is fatally important, so is wearing them according to the occasion. Some occasions and environments require a certain way of dressing that reflect professionalism. Offices, for instance, is usually the most demanding occasion that limits the choices of style to a minimum. People who work in an office in a conventional sense are opposed to be simply yet neatly clad, not only in terms of clothes, but also glasses. That is to say, anything to fancy or flamboyant like cat's eyes or novelties isn't supposed to appear on anyone's face that is going to clock in and clock out to win his bread home.