Eyeglasses and progressive lenses are the perfect match. They fit for each other not only functionally but also aesthetically. For eyeglasses, the type of glasses that have certain prescription powers so as to meet particular vision correction needs, the lenses choice is surprisingly rich. There are the single vision lenses, the most common one around, the bifocals and trifocals and the progressives. Out of the three, the latter two can then be classified as a type, the multi vision lenses. The difference of them from the single vision ones is, of course, the number of prescription powers featured. While single vision lenses are still the predominating force in the optical industry, there do exist a huge demand for multi vision lenses, for the number of people with more than one particular refractive error is growing rapidly. Those people want their eyeglasses with more than one prescription powers so their multi vision correction needs can be cured are certainly in preference of such glasses.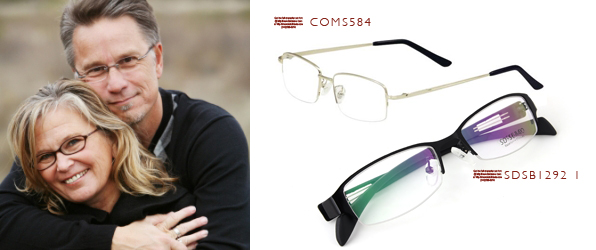 As for the advantages lenses of progressive glasses have over bifocals and trifocals, its pretty simple. Most of those who wear bifocals are over the age of 40 and have developed presbyopia, as a result, the visible lines on the lenses have long been regarded as a telltale sign of the wearers' age. Progressive lenses, with their uniquely advanced design, solve the problem once and for all. Because the prescription powers on the lenses increase gradually instead of suddenly jump to a new level, there's no meeting point of two utterly different parts of lenses, hence no visible lines. This is hugely beneficial aesthetically in that the wearers of such glasses will no longer be immediately recognized as the one who's over 40 in a crowd. With such glasses, they look just as young as those dynamic youngsters.
Having established that progressive lenses are the best lenses out there for eyeglasses wearers, you may wonder where to get them. While every optical store has their stocks of such glasses, online retailing websites are the places where you can get the best bargains. So, once you've made up your mind about these progressives, why not swing over to some professional websites to check out some of the most worthy and cost effective glasses on the planet.